Ivana Knoll has rocketed to fame at the World Cup with her risque outfits – but the former Miss Croatia was snapped chatting with security as Croatia faced Brazil in the quarter-finals
Former Miss Croatia Ivana Knoll was stopped by security during Croatia's clash with Brazil as she continued to sport her skimpy outfits.
Ivana has shot to fame in Qatar thanks to her stunning looks as has followed around her national side. And Knoll wore her most risque look to date as she posed at pitchside with a red bra and high-waisted leather pants paired with red and white chequered accessories.
One snap showed Ivana looking towards the camera as she formed a heart with her hands. However, more snaps show Ivana being confronted by two security officials at the Education City Stadium.
The security staff appeared to ask Ivana to return to her seat, which according to her Instagram story, appeared to be higher up in the stadium.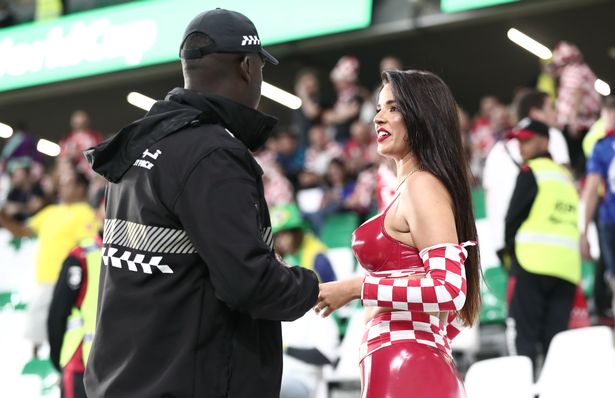 The stunning brunette continued to update fans with sultry snaps from inside the stadium as she revealed a heart with a Croatian flag on her breast. Ivana also shared a couple of snaps on her Instagram page of her full outfit.
She captioned the pictured: "Let's go to the semi-finals!"